Devise the most effective brand awareness strategy for your fashion startup brand to get to profitability and stardom quicker!
As a fashion entrepreneur, you might be tempted to think that the job is done once your fashion startup launches. Let me stop you here. Most fashion businesses fail precisely because they don't focus on marketing. If you want your fashion business to succeed, you need to get your brand noticed and liked.
We will be walking you through how to come up with the most comprehensive fashion marketing and fashion PR plan for your fashion startup – so follow our guide to make your brand successful and famous!
Preface:
Fashion marketing and fashion PR are a perfect combination for a complete marketing strategy. Fashion marketing solidifies your image, while PR widens your audience reach and adds credibility to fashion startups.
What is Fashion Marketing?
Fashion marketing refers to directly promoting your fashion business to targeted consumers through marketing and advertising strategies. Traditional marketing methods such as TV, magazine, and billboard ads have pivoted to digital marketing as the top driver of sales. Creating digital content for Instagram, TikTok, Facebook, and other social media platforms can help establish your brand as trustworthy, and draw interested customers.
What is Fashion PR?
Fashion PR involves spreading your brand message through established sources. PR provides entryways through magazine mentions and industry connections. As the fashion industry is built on relationships, PR can accelerate networking and bring your marketing content to a wider audience.

16 Proven Steps to Build Brand Presence & Awareness – and Get Your Fashion Startup Selling!
1. Research Your Target Market & Audience
2. Differentiate Yourself From Your Competition
3. Construct Your Brand Story
4. Look Professional
5. Share Your Brand Story on Social Media
6. Launch Promotional Campaigns
7. Use Celebrity or Influencer Marketing
8. Champion User-Generated Content
9. Find a Promotional Partner
10. Create a Community Around Your Brand
11. Use IG Sponsored Ads
12. Learn What to Pitch & When
13. Get Featured & Published
14. Use Instagram Reels
15. Connect with Your Audience Emotionally
16. Champion Brand Values

#1
Research Your Target Market & Audience
When starting your fashion brand, you have to identify the market need as a first step. Similarly, when devising your fashion marketing plan, it is important to focus your efforts on the market you are trying to reach. Answer these questions:
Who are you selling your products to?
Where and how do they shop?
What are their needs or pain points? What are consumers looking for?
This will form the basis of your marketing direction and ensure that your branding message is geared towards your potential clientele.
#2
Differentiate Yourself From Your Competition
The fashion industry is highly competitive and dominated by the big four: Zara, H&M, Gap, Inc. and Uniqlo. As a small fashion business, your niche is your ammunition. Look at what your competitors are offering and position your brand to stand out. Your unique selling point can very much become the central theme in your marketing campaign, so make sure you find one!
#3
Now that you have identified who you are selling to and how your fashion business is unique, time to think about how you want to package it. Your brand needs to encapsulate the purpose and image of your fashion business. This includes everything from designing an identifiable fashion brand logo, writing your core values and a catchy slogan, and choosing a color palette and typography.

A great way to organize your ideas is using a brand guideline template. The effectiveness of your fashion marketing plan will depend largely on the strength of your branding. Take time to think through all the details and leave no stone unturned.
#4
Look Professional
Beautiful images mean more clicks and better representation of your brand. If you want to attract eyeballs, make your photos and stories visually attractive. Keep a coherent brand image to be recognizable. Looking both professional and striking at the same time is a great way to stand out from the many images a consumer sees in a day.
#5
Share Your Brand Story On Social Media
The rise of the digital fashion age has disrupted the fashion industry – most notably by e-commerce and social media. For new fashion startups, social media is going to be the primary platform for audience outreach, since your products are probably sold online.
Consider your social media accounts as a storytelling medium to connect your brand with your customers. The more clear and identifiable narrative you have on social media, the deeper your customers will connect with your brand. Know what you're posting and why. Use ideas previous brands have found successful to create a marketing campaign that stands out.
#6
Launch Promotional Campaigns
If you want to boost brand exposure, you need to create hype around your brand. Discounts and sales promotion are sure ways to get users' attention. Freebies? Even better! Some brands host regular giveaway contests on Instagram. Others launch referral programs that offer discounts when your friends make a purchase. If you don't have the budget as a fashion startup, be strategic about the timing of your promotional campaign and think about your end result goals.
#7
Use Celebrity or Influencer Marketing
An influencer strategy is key to digital fashion marketing. Influencers create personalized audiences based off of trust and authenticity, which is a much more favorable climate for your brand's ads. The numbers talk as influencer marketing is shown to have 11x better ROI than banner ads.
Not every brand has the budget to work with Kim Kardashian (rumored around $250,000 for an IG post), but that doesn't matter as influencer with different follower counts are still immensely valuable. Starting from micro-influencers ($100 – 500 for a post or mention) to established influencers ($100 – 500,000), there is one for every budget. Use online tools to find the right influencer for your budget and desired audience reach.
#8
Champion User-Generated Content
User Generated Content (UGC) are photos your followers post of your brand which you then share. UGC includes anything from photos with your brand hashtag, photos of your brand, or tweets mentioning your brand.
Beyond reducing your social media work substantially, UGC develops your brand in ways typical marketing campaigns cannot. UGC allows your customers to see your brand in real life, which helps them visualize how the apparel would look on them rather than on a model. You also build social proof of how popular your brand is, which can boost sales and FOMO (Fear of Missing Out) buys. By sharing UCG, you get the added bonus of interacting with your fans and building engagement.
#9
Find a Promotional Partner
Gain exposure to a whole new audience and market segment by partnering with another brand as a promotional partner. Choosing a partner that is adjacent, but not a part of your current market, ensures a partnership rather than competition, such as a a makeup brand collaborating with a clothing brand to co-link their audiences. Smaller brands can also partner with bigger brands or distributors. For example, Target's current Designer Dress partnership pairs with three independent designers to bring their work to a much wider audience. Know how to choose and set up a brand partnership to navigate negotiations, contracts, and production while staying true to your brand.
#10
Create a Community Around Your Brand
Without supporters, your brand doesn't live beyond you. Creating a community to boost and share your brand is vital to make sure you have a strong customer base who stays. Brands that successfully build communities engage their customers and extend from being a product to a lifestyle. Community building starts with authenticity: from taking ownership when production goes wrong, anchoring your company on transparent values, to celebrating your wins by crediting your followers and customers. Share widely when customers feature your product on their personal pages and integrate their UGC to embed them in the brand story and build community.
Your customers also provide you with the most important feedback as they know what isn't working with your products, needs to be adjusted, or would be more useful in their lives. Makeup brand Glossier does an incredible job with this, often polling customers on instagram to create their next product or see what customers want from the brand. Their meteoric rise to a $1.2 billion dollar brand reflects the power of UGC used well.
#11
Use IG Sponsored Ads
Instagram suggestions and sponsored ads give you eyes on your content you might not get otherwise. Instagram ad costs are dependent on several factors, such as who the ad is for, when it is featured, and what format it is featured in. You can select between story ads, photo ads, and video ads. Choose what works for your content and budget. ROI for Instagram ads can be high when used correctly, so build your ad campaign targeted for the right audience.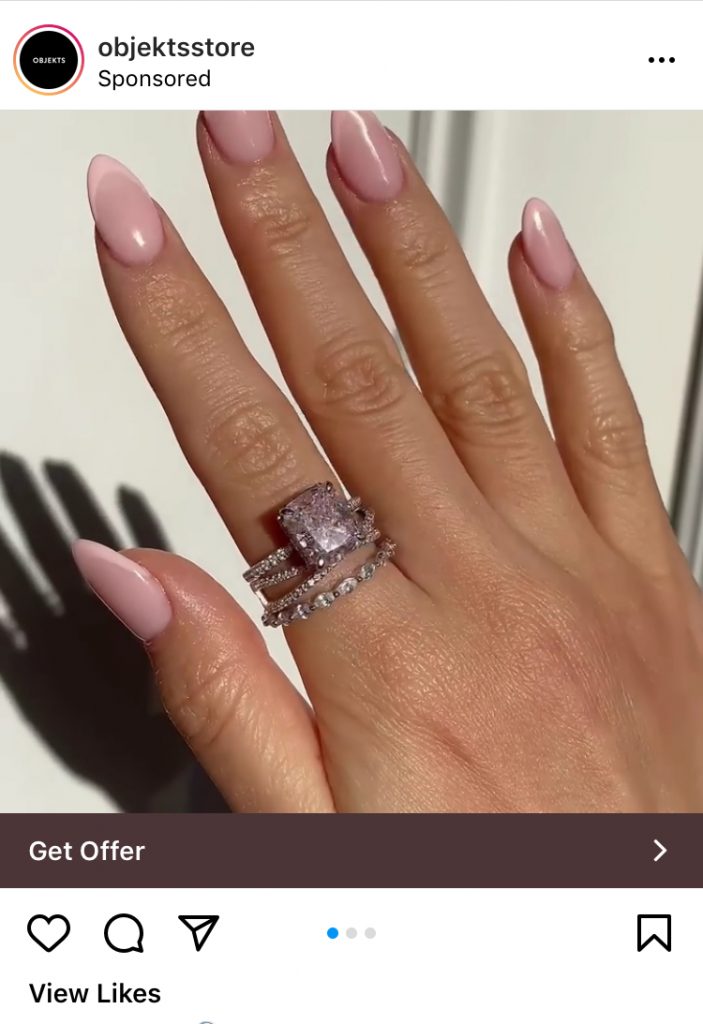 IG ads look like regular posts or Stories, but with a "Sponsored" label.

#12
Learn What to Pitch and When
To gain visibility and earn credibility within the fashion industry, you need to promote your fashion brand to editorials, photographers, brands, stylists, and other fashion professionals. Know the important dates in fashion, so that you can time your outreach effectively. From the Oscars to Vogue's September issue, know when they occur, and who to reach out to, whether celebrity stylists or magazine editors. Avoid sending your pitch during busy times like award season and fashion shows, as people will not have time to respond.
#13
Get Featured & Published
Reach out to fashion blogs that write about brands to follow or products they love, and see if they'll include your brand on your list. Let them know what your brand is creating and why your brand story could be interesting to their audience. Build connections with top magazines by contacting their PR and editors. The more people in positions of influence know what you're doing, the more likely you can land press publicity opportunities.
#14
Use Instagram Reels
Instagram Reels have become an instrumental tool to break through the content wall and reach your customers. According to Reels suggestions, Instagram prioritizes "entertaining, funny, and interesting content". Transition videos, slideshow showing photos of customers loving their outfits in real life, and beautiful branding stories all give your instagram content an edge.
#15
Connect with Your Audience Emotionally
Grow your brand's following by focusing on building an experience rather than a product. Sensory branding, cause branding, storytelling, and empowerment are all top researched ways to build consumer sentiments and set your brand apart. This will give your customers an experience that aligns their values and emotions with your brand.
#16
Champion Brand Values
Ethical and sustainable brands get a lot of attention and are standing up to larger retailers neglecting these values. Gen Z particularly cares about sustainable impact, which translates to more consumers looking for brands highlighting these values in their practices. When you place these at the forefront of branding in a unique, transparent way, you'll attract customers who also care about your cause.